By Don Simmons
I have long ago thrown away my last copy of "How To Win Friends and Influence People", as I have come to an understanding of Pro. 29:25, "The fear of man lays a snare, but whoever trusts in the LORD is safe."  But that being stated, I also know that we are to "pursue peace with all men," and so there must be a careful balance to always check my spirit and to make sure that I'm not being unnecessarily controversial or divisive in my verbal and written correspondence.  That being said, I would like to address an issue that has brought me to searching out the Scriptures to come to a knowledge of the truth, so that I can lead my family and my congregation in the way they should go!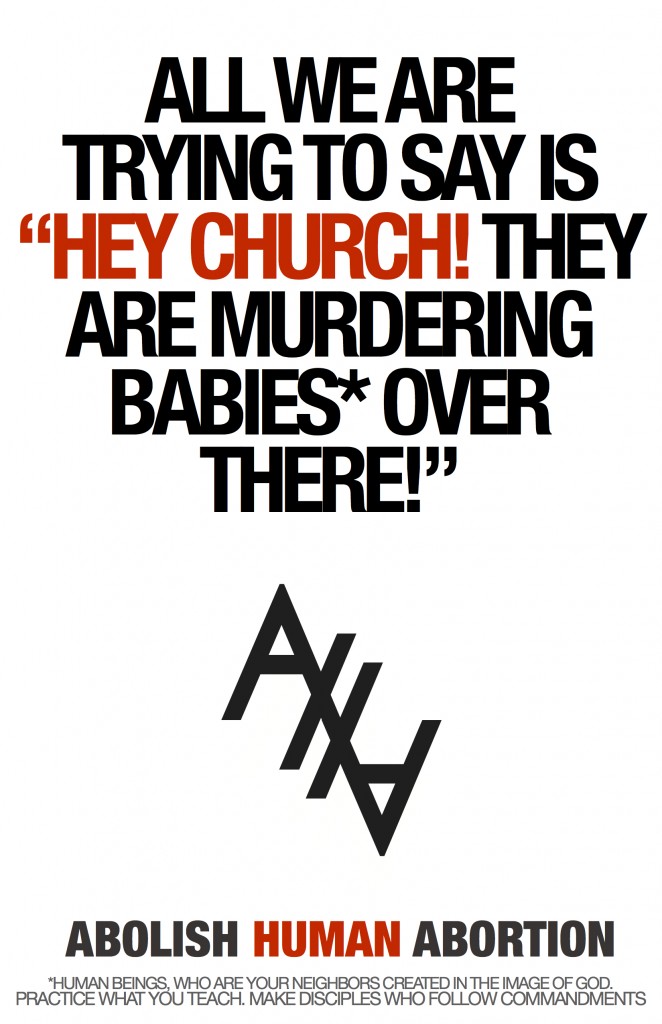 There has been much debate in the last few months between Abolish Human Abortion and their detractors, most notably the Babies Are Murdered Here group.  I have been told that one of the opponents of AHA was even quoted as saying, "no pastor in America would endorse this project," in reference to the Church Repent project.
So, let me state at the outset, that I, as a 'pastor', a street evangelist, a sidewalk counselor, and as a husband and father of seven blessings, fully support this project and why I think it imperative that other 'pastors' follow suit.
I need to be clear at the outset, lest anyone think that I am being deceitful in calling myself a "pastor", that I am a layman.  My primary "tentmaking" skill is dentistry, and I am currently in my 27th year of practice.  I run a large dental practice, and use this skill to finance my real love–that of glorifying God, so that I can enjoy Him forever!  Since God took away my "heart of stone" and gave me a "heart of flesh", I have been passionate about demonstrating my gratefulness to Him by loving and obeying Him, and by a desire to love my neighbor as myself.  In March of 2009, as a tangible means of demonstrating my love for Him and my neighbor, I attended Way of the Master's Ambassadors Academy, and from this point on, I became passionately involved in both street evangelism and sidewalk counseling outside of the Little Rock Family Planning Clinic.
Just in case it hasn't been obvious to my readers, I have consistently placed the word "pastor" between quotation marks.  My reasons for doing so are manifold, but the primary purpose of doing so is because I think the word "pastor" is used out of the intended Biblical context in far too many instances today, and in reality I know of very few real "pastors", at least those that meet the Biblical definition of "pastor" or "elder".  But for the purposes of this article, the members of my church would refer to me as and look to me as their "pastor".  The church that I "pastor" is Liberty Community Church in Little Rock, AR, and after serving as their pulpit supply on an "as needed basis",  the two remaining "elders", Mr. King, an 83 year old gentleman, and Tim, who had been their previous pastor for 10 years, called and asked me if I would be willing to serve in this capacity to "help them out".  I discussed this matter with the pastor and the associate pastor of the church that my family and I were attending at the time, and after much discussion, they were in agreement that I should go and help this church, though they acknowledged that it would be a great sacrifice on the part of my family.  On the Sunday night before we started "pastoring" Liberty Church, the pastor and associate pastor of the church body that we had been a part of,  along with our entire church family, called us to the center and laid hands on our family and sent us out to serve.  Now to be clear, I don't think this makes anyone a "pastor" any more than sitting in my garage would make me a car, but I know that for some naysayers, this information will be vital.
So, with the preliminaries out of the way, what are the reasons why I support AHA's Church Repent project and why I think you and your church should also?  There are a multitude of reasons, but here is the short list:
1. Because our "New Birth" demands it!

Take a minute and read through 2 Cor. 5, specifically, verses 9-20.  2 Cor. 5:17 states emphatically, "Therefore, if anyone is in Christ, he is a new creation.  The old has passed away; behold the new has come."  Does this describe you?  Are you really a new creation?  Has God given you "one heart, and a new spirit"?  Has He removed the "heart of stone",  which is hard and calloused to Him, His Laws, and others, and truly given you a "heart of flesh"?  If so, Ezekiel goes on to state that this is so that you "may walk in My statutes and keep My rules and obey them" (Ezek. 11:19-20). If this truly describes you, then 2 Cor. 5:18 tells you your duty: "…and gave us the ministry of reconciliation." And verse 20 goes on to state that, "Therefore, we are ambassadors for Christ, God making His appeal through us."
And what does this have to do with AHA's "church outreach program"?  2 Cor. 5:10-11 states, "For we must all appear before the judgment seat of Christ, so that each one may receive what is due for what he has done in the body, whether good or evil.  Therefore, knowing the fear of the Lord, we persuade others."  You see, we as "born again" Christians, know that one day, each and everyone of us must appear before Christ and give an account of our stewardship for everything done in the body, whether good or evil.  And in light of this fact, Paul goes on to state, "Therefore, knowing the fear of The Lord, we persuade others."  Do we have an obligation to persuade other "professing Christians" of their lack of "works" in the loving of their preborn neighbor?  I believe this passage would say that not only should we, but we have a moral obligation to do so!
2. Because it is in keeping with the two great commandments!
When Jesus was asked, "Teacher, which is the great commandment in the Law?  And He said to him, 'You shall love the Lord your God with all your heart and with all your soul and with all your mind.  This is the the great and first commandment.  And a second is like it:  You shall love your neighbor as yourself" (Mat. 22:36-39).
Now I realize that all of us fail miserably in the fulfillment of both of these commands, but ask yourself if this is the true desire of your heart–to love God with everything within you, and to truly love your neighbor as much as you love yourself?  Keep in mind that He "will bring to light the things now hidden in darkness and will disclose the purposes of the heart" (1 Cor. 4:5).  Think about how much you protect your body from harm–and how you protect those that are your own flesh and blood from harm (your children)!  Would you, or better yet, could you sit back and know that your own child is being ripped apart, limb by limb, by a child molester, while you sit comfortably in your church pew?  I would think not!  And yet, week after week, "professing Christians" and even worse, "professing pastors" drive within miles of killing centers around our country and close their ears to the cries of the unborn!  I would hardly say that this is even an attempt at "loving your neighbor as yourself"!  And so I would say that "stirring up one another to love and good works" for those "meeting together" that lack the aforementioned "love and good works" should hardly be frowned upon.
3. Because living out #2 mentioned above, requires action, otherwise you have proved yourself to be the "priest" or the "Levite" in the Parable of the Good Samaritan!

In Luke 10:25-37, we read a parable which demonstrates how this is to actually be lived out. In other words, in this parable, we move from the abstract to the practical. This is typical of the writings of Luke, the one who wrote earlier the words of John the Baptist, "You brood of vipers!  Who warned you to flee from the wrath to come?  Bear fruits in keeping with repentance" (Luke 3:7b-8a).  And before they could begin making excuses for their lack of action (including their "selection by God", John goes on to state, "Even now the axe is laid to the root of the trees.  Every tree therefore that does not bear good fruit is cut down and thrown into the fire."  And Luke records that when John was asked, "What then shall we do?" he proceeded to give them some very practical guidelines for checking to see if their repentance was genuine, such as sharing your tunics with someone who has none, etc.  And so in Luke 10, it is no surprise that Luke's retelling of the parable of the Good Samaritan would include a practical outworking of their professing "neighborliness"!  Read the account yourself, but the only one who proved to be a neighbor was the lowly Samaritan–one who was hated and despised by the religious establishment of the day!  The Priest and the Levite were both guilty of proving that they were "fruitless" when it came to helping their neighbor and coming to their aid when they perceive that they are in danger.
4. Because we are to follow Christ's example!

1 John 2:5b-6 states, "By this we may know that we are in Him:  whoever says he abides in Him ought to walk in the same way in which He walked."  I once heard a sermon which made the point, "You will serve the God that you see".  How do you see Jesus? Do you see Him as a "baby in a manger" or "God hanging on a cross"?  Do you see Him weak and impotent?  Then this is the God you will serve!  Or do you see Him confronting the religious leaders of His day, those that had no compassion for the lowly, and were being deprived of justice and mercy (see Matt. 21:12-13) by "overturning the tables of the money-changers and the seats of those who sold pigeons."
Was this simply a one-time event, in which Jesus lost His temper?  Not hardly.  Just read in Matthew's account of Peter's confession of Jesus as being the Christ–"Jesus…asked His disciples, 'Who do people say that the Son of Man is?' And they said, 'some say John the Baptist, others say Elijah, and others Jeremiah or one of the prophets" (Mat. 16:13-14).  Look at this all-star line-up with which they compared Christ–John the Baptist (a man who lost his head to stand up to the king), Elijah (who rebuked and taunted the prophets of Baal), and Jeremiah.  Listen to Jeremiah's condemnation of the religious leaders of the day:
    For wicked men are found among my people; they lurk like fowlers lying in wait. They set a trap; they catch men.
Like a cage full of birds, their houses are full of deceit; therefore they have become great and rich;  they have grown fat and sleek.
They know no bounds in deeds of evil; they judge not with justice the cause of the fatherless, to make it prosper, and they do not defend the rights of the needy.
Shall I not punish them for these things? declares the Lord, and shall I not avenge myself on a nation such as this?
An appalling and horrible thing has happened in the land: the prophets prophesy falsely, and the priests rule at their direction; My people love to have it so, but what will you do when the end comes? (Jer. 5:26-31)
Notice the words of verse 28, "…they judge not with justice the cause of the fatherless, to make it prosper, and they do not defend the rights of the needy…".  One of the definitions of "needy" is "those subject to oppression and abuse".  In the New Covenant, the same principle is stated by Christ in Matt. 23:23-24, "Woe to you, scribes and Pharisees, hypocrites!  For you tithe mint and dill and cumin, and have neglected the weightier matters of the law: justice and mercy and faithfulness. These you ought to have done, without neglecting the others. You blind guides, straining out a gnat and swallowing a camel!" Notice what was close to Jesus' heart here–"justice and mercy and faithfulness".  And also notice who was condemned and the "Woe" pronounced upon–those who did not administer justice.
Returning to the Jeremiah passage, what was God's instruction to the prophet? Chapter 7, verses 1-6 tells us:
The word that came to Jeremiah from the Lord: "Stand in the gate of the Lord's house, and proclaim there this word, and say, 'Hear the word of the Lord, all you men of Judah who enter these gates to worship the Lord. Thus says the Lord of hosts, the God of Israel: "Amend your ways and your deeds, and I will let you dwell in this place. Do not trust in these deceptive words: 'This is the temple of the Lord, the temple of the Lord, the temple of the Lord.' For if you truly amend your ways and your deeds, if you truly execute justice one with another, if you do not oppress the sojourner, the fatherless, or the widow, or shed innocent blood in this place, and if you do not go after other gods to your own harm…"'"
Where was Jeremiah, the one that Christ was compared to, to go and stand and speak?  In the gate of the Lord's house, the Temple! And what was the message Jeremiah was to preach (outside the Lord's house)?  Repentance! That's right, repentance for their apathy in delivering justice — "For if you truly amend your ways and your deeds, if you truly execute justice…or shed innocent blood…"
Christ commanded us to be "Christ-like"; to be like Him. And though the charge has been leveled against AHA, that "AHA is a parachurch organization that has no biblical precedent, command, or authority to rebuke or 'exhort' the local church", I believe that this is a false claim, as we have One who is much greater than a "local church eldership" giving the believer permission. We have the authority of our King!  We have been given the command to go to a brother or brothers that are caught in sin (Matt. 18; Gal. 6; James 5:19-20, etc).  And if he or they don't repent, then we are to take along two or three others and then to the whole church.  This is what AHA is doing–they are first attempting contact with the local leadership, and when and if the admonition is spurned, they then go and exhort as necessary.
5. Because the Gospel commands it!

In what is often referred to as the "Great Commission", we read:
And Jesus came and said to them, "All authority in heaven and on earth has been given to me. Go therefore and make disciples of all nations, baptizing them in the name of the Father and of the Son and of the Holy Spirit, teaching them to observe all that I have commanded you. And behold, I am with you always, to the end of the age."
Notice what is stated here in regard to the command and by whose authority we are commanded to GO–"And Jesus came and said to them, 'All authority in heaven and on earth has been given to Me"!
Notice this passage doesn't say, "All authority has been given to the elders, or pastors, etc."  The authority, the one worthy to be given the command is His, and we need no man's authority to tell us whether we should obey or disobey this command. Read Jeffery Fish's question to Ray Comfort and Ray Comfort's response regarding going out and street preaching and sharing the gospel, which many of the BAMH contingency insist must be done under the authority of the local eldership:
Q from Jeffery Fish: When you decided to go and share your faith and then to proclaim the gospel in the city of Christchurch in the city square, did you go with permission and under the authority of the elders of your church or did you go out on your own?
A from Ray Comfort: …Boy, I think it was just on my own; but the church was involved and was absolutely thrilled, because they were evangelistic.  A church 'I started in my home' and we moved into an empty Presbyterian Church, and asked an elder from a local church to become our pastor and to set up an eldership, but they were very evangelistic…this was over 40 years ago…they were thrilled…who could disagree with "go into all the world and proclaim the gospel to every creature"…they were delighted…If I were in a church that said I couldn't go and preach the gospel, I would change my church! …the Great Commission is so obvious…the 1980′s has something called the Shepherd Movement, where had to get your pastor's or shepherd's permission /nod to eat oatmeal for breakfast…almost like that…and it got out of hand…each of us have a walk with God and we preach the gospel and love to have the pastor's blessing and the pastor should actually go out there with you if he is a pastor that is worth his salt.
Now granted, Ray Comfort is not the ultimate authority, nor is any man regarding our obedience to Scripture–God is!  But it is important to note that many of these "open-air" preachers that are now so-called authorities on who and when and under whose authority we can go and preach were mentored by Ray Comfort.  And to be fair, Ray was not advocating the Church Repent project here. My point of including this is that many, if not all, of those that are condemning the AHA brethren are being inconsistent.
An example of condemnation:
AHA claims to be under the authority of the local church, yet the church many of them are a part of is not a local church ruled by, led by, taught by, or equipped by elders, which Jesus Christ has appointed to shepherd His Church realized in the local church (Hebrews 13:7, 17; 1 Peter 5:1-11; 1 Timothy 5:17). Nor is this a church plant that was established under the authority of another local church, nor are the members at Door of Hope (note: a church in Oklahoma whose membership includes many of AHA's founding members) sent out to do any work of the ministry they claim to be doing. This is where their orthodoxy affects their orthopraxy in a negative way. They are in no way "subject to the elders" (1 Peter 5:5) and in no way can they "obey their leaders" (Hebrews 13:17) because they have no leaders (elders).
This same detractor goes on to state:
Ultimately, AHA is attempting Gospel ministry and it is attempting ecclesiastical ministry, but it has no attachment to the local church under the authority of God-appointed elders.
This is the real crux of the issue with AHA's main detractor, Babies Are Murdered Here - ecclesiology – that of the "elders" ruling the flock, not leading the flock.  In 1 Cor 11:1, Paul states:
"Imitate me, just as I also imitate Christ."
John Wesley wrote thusly about this passage: "he will follow no man any further than he follows Christ." And that is Biblical. This is simply a matter of Acts. 5:29 - "We must obey God rather than men."
Yes, we are to be conciliatory and follow our leaders in the local church, but not at the expense of disobeying the Chief Shepherd (1 Pet. 5:4).  And the Chief Shepherd has emphatically stated that we are to, "Go therefore and make disciples of all nations…teaching them to obey all that I have commanded you." The illustration that has been used by many to help us understand our duty to go and share the gospel and to convict us that it would be "unloving" to do otherwise is that of a burning building with people inside playing games, unaware that the building is on fire.  The illustration goes on to state that it would be unloving to walk past, saying to ourselves, "they really seem to be having a good time, I wouldn't want to disturb them", and how this would really just demonstrate our lack of love for our neighbor.  This same illustration is used for going to rock concerts, amusement parks, on the streets, etc., to proclaim the gospel; but what is different about going to something that even by their own admission, these same men would call a "Six Flags Over Jesus" event?  Most of the "sheep" in these 'churches' aren't even aware that there is an abortion mill down the street from their church, and have never been taught their obligation to go.  So are we to simply sit by and watch?
The Apostles routinely went into the synagogues and proclaimed the true gospel to some of the most religious, yet cold-hearted people of their day.  The only difference is our modern day synagogues allow for no dialogue, no freedom of speech, except by the local "pope" or his invited guest.  And many of these men, far from being Biblically qualified to lead churches (read 1 Tim. 3:1-7 and Tit. 1:5-9), are simply men who have been appointed by the "good ole boy's association" and have no real love for God's flock, but are rather "hirelings".
And so, we are to go, under the authority of our King, who has already given us the marching orders, to "obey all that I have commanded you"–which would certainly include:
Proverbs 31:8-9:
Open your mouth for the mute,
for the rights of all who are destitute.
Open your mouth, judge righteously,
defend the rights of the poor and needy.
And Proverbs 24:11-12:
Rescue those who are being taken away to death;
hold back those who are stumbling to the slaughter.
If you say, "Behold, we did not know this,"
does not he who weighs the heart perceive it?
Does not he who keeps watch over your soul know it,
and will he not repay man according to his work?
And not only are we to do this, we are to "make disciples" who will do this also!  And so, will you go?  Will you speak up for the "mute", for "God's heritage"?  Will you even go to the Scribes, the Pharisees, the Sadducees, and the religious hypocrites of our day?  Or will you "faint in the day of adversity"?