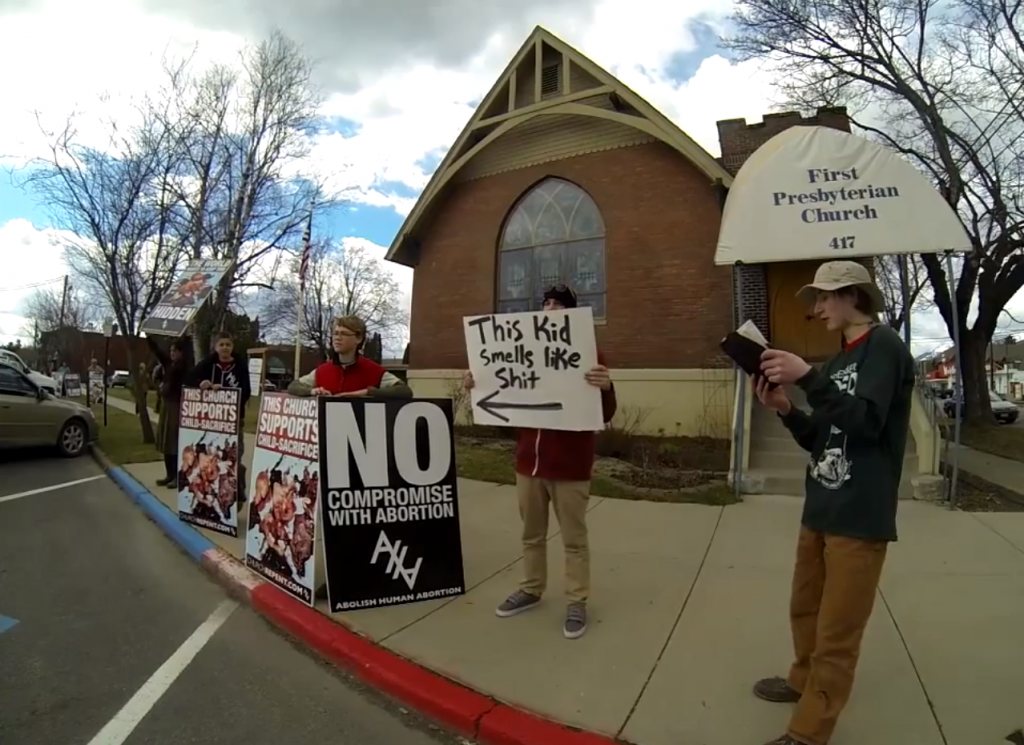 On Sunday, April 6, 2014, the Abolitionist Society of North Idaho again went to the street in front of a "church" that supports abortion to call it to repent. The church is the First Presbyterian Church of Sandpoint, led by pastor Andy Kennaly. It is part of First Presbyterian Church (USA), which is a member of the Religious Coalition for Reproductive Choice (RCRC), a pro abortion "religious" organization.
We abolitionists in North Idaho say the RCRC is a "faith based" pro abortion organization that takes comfort in the fact that all members are arm-in-arm with likeminded "religious" people bound for the pits of hell as they support the dismemberment of small human beings made in the image of God.
Before we call for a "church" that claims the name of Christ to repent for a wrong position on the current holocaust, we always contact the pastor of a local assembly and verify that they indeed subscribe to the pro death position of the parent organization.  In this case, we email Andy Kennaly the following message:
Hello Mr. Kennaly,
I am under the impression based on the RCRC's website (www.rcrc.org) that PC USA supports the RCRC and abortion through the Presbyterian Mission Agency.
Do you have a position on abortion for First Presbyterian Church Sandpoint?
As God-fearing, Bible-believing, born again Christians we believe the issue of abortion is fundamental to Christian truth. Christians cannot be neutral on this issue any more than black slavery was an issue of "religious tolerance" for Christians in the 19th century or that "the Jewish Question" was a matter of theological diversity for German Christians in the 1930′s. How we regard our neighbors … our disposition to the innocent – orphans and widows – is the essence of "pure religion" James 1:27. The Bible declares that man is made in the image of God – Jesus Christ came incarnate in the womb of a woman – a pregnant Mary carrying Jesus Christ is described as "with child."
I would be interested in hearing your perspective and discussing the topic. Let me know if you are open to meeting and talking about your position on abortion.
Respectfully,
Jeremiah Smedra
To which, Mr. Kennaly replied:
Hello Mr. Smedra,
I received your message inquiring about the position on abortion at First Presbyterian Church. We are a congregation of the Presbyterian Church (USA) and you have seen correctly that one of our main, historic doctrines is that God alone is Lord of the conscience. This shapes our mission, and as such, we leave choice involved in the area of abortion, even as we celebrate life and value incartional (sic) ministry. 
I am not really interested in meeting to discuss this topic, as your mind and "position" is already set. But thank you for the invitation.
Peace,
Pastor Andy 
Pastor Andy Kennaly
First Presbyterian Church
417 N. Fourth Ave.
Sandpoint ID 83864
When a church says that a person's decisions regarding abortion are a matter of personal conscience, that is code for "we support abortion".  They are a member of RCRC (rcrc.org), and if you review that web site, they advocate for legal abortion using language like:
"Celebrating 41 years of reproductive justice"
It has been 41 years since the Roe v. Wade decision that opened the floodgates for the current abortion holocaust. Their "Reproductive Justice" is a lie from Satan himself. Justice is the deliverance of the preborn image bearers from death (Proverbs 24:11-12).
The RCRC also says:
"For too long, the public debate on these issues has been dominated by strident voices who want a monopoly on religion. It's time to tell the truth: that most people of faith in this country – like the majority of Americans overall – want families and individuals to have access to contraception, sexuality education, and reproductive healthcare including abortion."
After our initial correspondence with Andy Kennaly, by email we offered another opportunity to talk, and Andy did not respond. We went to the sidewalk adjacent to the "church" to exhort church members to reject the church's support for abortion. Not surprisingly, many church attenders told us they were "pro choice". We were called "off base", "idiots" and were told to "shut up". By women in their 70's!
We will continue to preach at this "church" to urge it to repent of its wickedness in supporting child sacrifice.
Here is some video documenting how we approached the people of this "church" and some of the interaction we had there.
-Abolitionist Society of North Idaho